A reflection of your choices
Rinkit-Homeware
Rinkit is an online store where you can shop with stylish and dependable products that are fantastic value for money moreover, helping our customers transform houses into homes. Furthermore, we work with stylish homeware products with well-known brands found all over the world. We aim to provide our customers with unique home products all around the world and can't be found anywhere else.
The Rinkit home ware collection offers a huge collection of unique, quirky home ware and cute accessories. Furthermore, PRODUCTOO SHOPPING give your interiors a makeover with our range of designer's home ware. Since, your home is furnished with basics now it's time to accessories with Rinkit home wares. We have everything you need to create your place sustainably look good. Explore our range of home ware with safe and secure online shopping and convenient delivery.
Box Photo frames and Mounts
Cushions
Door Knobs and Cup Handles
Door Stops
Draught Excluders
Piñatas
Vases
Adult Hangers
Candle and Diffuser Sets
Candles and Holders
Children's Hangers
Diffusers
Hot Water Bottles
Stands and Hooks
Bath Towels
Bathroom Sets
Soap Dishes
Toilet Brushes and Bins
Toilet Seats
Toothbrush Holders
Book Shelves
Home Decorations
Shelf Brackets
Trees, Stands and Skirts
Window Fasteners
Kitchenware
Rinkit kitchenware has a large collection of stylish, budget-friendly and skill level. Moreover, this online website is the best online market place to start when shopping for a new kitchen supplies. Rinkit kitchenware includes variety of styles which helps you to upgrade your existing ones. Furthermore, you will love your unique kitchenware accessories from around the world. Shop our High Quality range of products for the kitchen.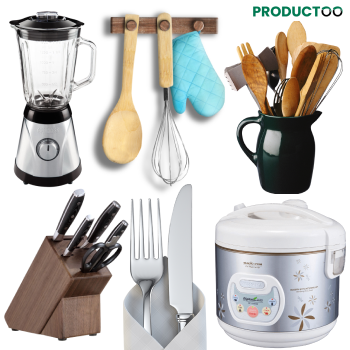 Cast Iron Dishes
Chopping Boards
Ramekins
Salad Bowls
Sauce Dishes
Serving Dishes
Serving Trays
Charger Plates
Coasters
Cutlery and Utensils
Kids Tableware
Napkin Rings
Placemats
Coasters Sets
Slate Tableware
Table Runners
Kitchen Table Accessories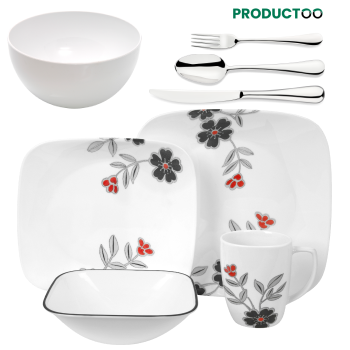 Bowls
Cups
Egg Cups
Jugs
Mugs
Plates
Teapots
Crockery Sets
Enamel Crockery
Farmhouse Crockery
Patterned Crockery
White Crockery
First Aid
Glass Storage Jars
Lunch Bags
Metal Canisters
Plastic Food Storage
Tea and Coffee Storage
Furniture
Mirrors-Bedroom Furniture
Decorative and functional, mirrors are one of the best ideas in making your place to look spacious and light in a room. These incredible changes can change a feel of a room. Moreover, the metallic wire frame of our Dressing Table mirrors makes them a sleek, chic centerpiece in any bedroom or bathroom.
Kitchen Furniture
Chair: Rinkit offers a range of comfortable metal and wooden chairs. Their durable design will mean comfort and support.
Stools: we provide with perfect furnishing pieces for bedrooms, beaches, campfires, fetes and festivals.
Tables and Dining Sets: Rinkit offers compact dining sets pack while adding a sleek industrial flavor to any interior.
Living Room Furniture
Footstools: we provide with luxurious decorative piece to your living room. More colors and more stylish designs are available for your home.
Office Desk and Chairs: whether you are looking for home or for office Rinkit office desk and chairs are designed according to your needs. Moreover, featuring a variety of styles and finishes, traditional wood and futuristic glass and metal are the materials based on our crafting.
Garden Products
Rinkit Garden product aims in creating and enjoying your outdoor heaven. Therefore, our holistic approach to developing garden tools and products that reflects hours of immersive study. Moreover, Rinkit garden products designed to help you cultivate a better garden. Furthermore, we have a variety of modern and fashionable garden furniture to transform your outdoor space. Our collection of garden product includes dining tables, from colors such as blue, orange, yellow and many more. Explore stylish and luxurious collection of Rinkit garden products: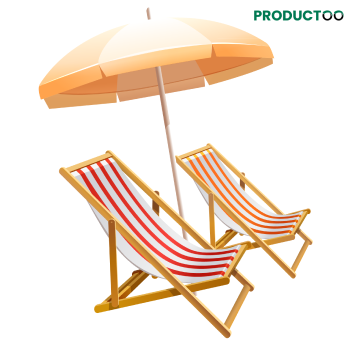 Garden Furniture
Bisto Tables and Chairs
Deck Chairs
Garden Chairs
Garden Furniture Sets
Garden Tables
Hammocks
Sun Loungers
Lighting and Heating
Fire Pits
Fire Torches
Lanterns
Accessories
Barbecue Grills and Tools
Camping and Picnic
Garden Ironmongery
Parasols & Sun Shades
Sun Loungers Cushions