Designed with perfection.
Adidas is about more than sportswear and workout clothes. Furthermore, partner with the best in the industry to co-create. This way Adidas offer our fans sports apparel and style that match their athletic needs, while keeping sustainability in mind .Moreover, Adidas Tights that are squat proof and sports bras ready to move. Or simply the softest lounge wear for Sunday vibes. All the we need. All we want. More than we can dream of, in women's apparel. Buy and explore with PRODUCTOO SHOPPING women clothing of Adidas.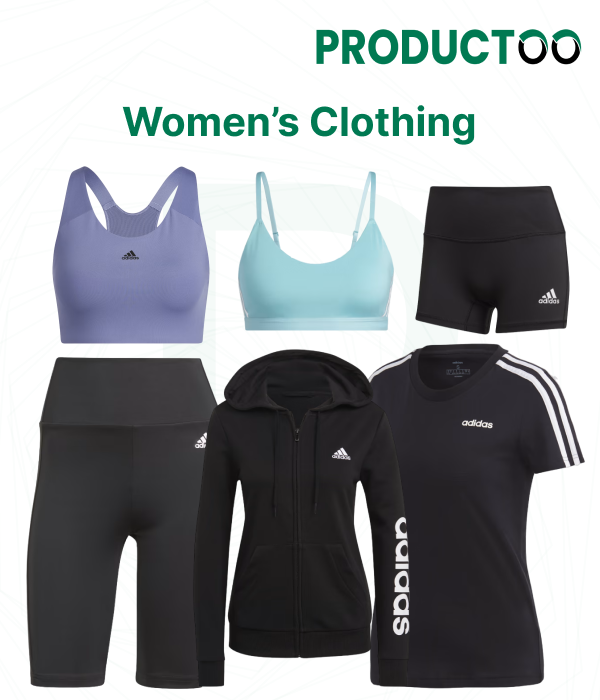 WOMEN'S CLOTHING
Sports Bras
T-shirts
Hoodies
Shorts
Tights
Upgrade your wardrobe with our collection of stylish and versatile men's clothing with Adidas. Furthermore, Adidas men's clothing that's stylish, sporty, and comfortable, and the adidas men's range is difficult to beat. Whether you're heading to the gym, hitting the pitch or just chilling out, you'll find your perfect matching addition, offers premium men suiting, smart formal dressing solutions and leisure clothing for men. Browse and discover Adidas products with PRODUCTOO SHOPPING.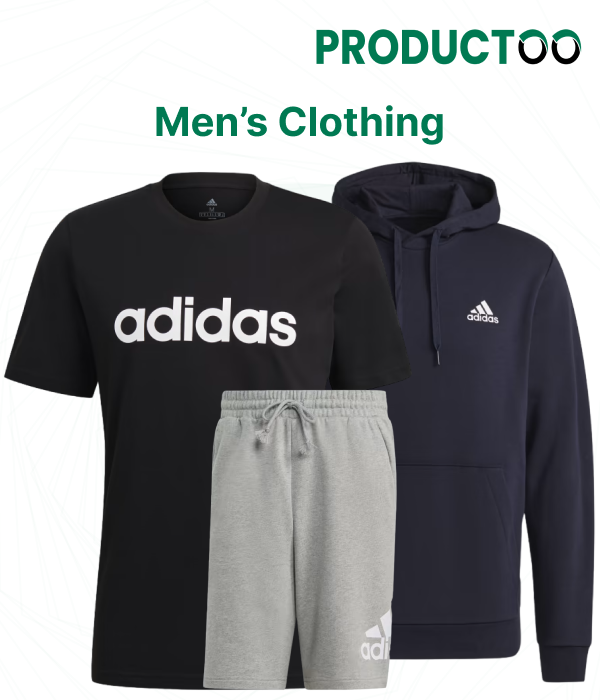 MEN'S CLOTHING
Original
T-Shirts & Tops
Shorts
Joggers and Track suit Bottoms
Hoodies
Sweatshirts
Swimwear & Trousers
Choose from a selection of Adidas essentials or funky graphic prints, or let them show their pride with the latest official gear from their favorite footie teams. Moreover, Wrap your little man in the great collection of boys' clothing from Adidas that caters to every sporting and leisurely passion.
Furthermore, the shorts, t-shirts, trainers, lightweight jackets and so much more that make up our girls' clothing range will allow you to dress her from head to toe in her favorite sports casual brand.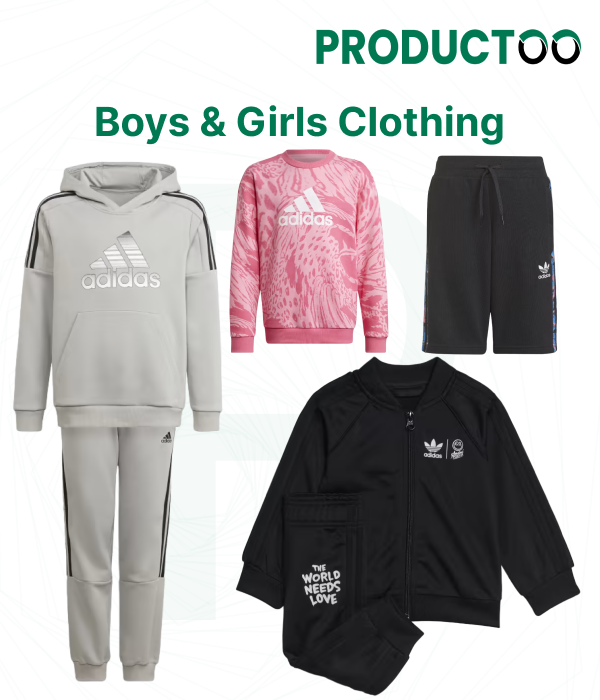 BOYS & GIRLS CLOTHING
Tracksuits
Complete Sets
T-Shirts
Shorts
Trousers
Hoodies
Sweatshirts
Jackets
Football Jerseys
Adidas shoes for men have been worn by global sports legends for generations. Their legacy of performance-enhancing technology and fashionable design has seen adidas men's shoes crossover to become mainstays of streetwear on a global scale. The company continues to make significant progress in improving its sustainability.
Moreover, PRODUCTOO SHOPPING have a wide selection of men's shoes, including formals, casuals, sandals, slippers. Different Adidas innovations create comfortable, reactive, lightweight, breathable and supportive shoes for men.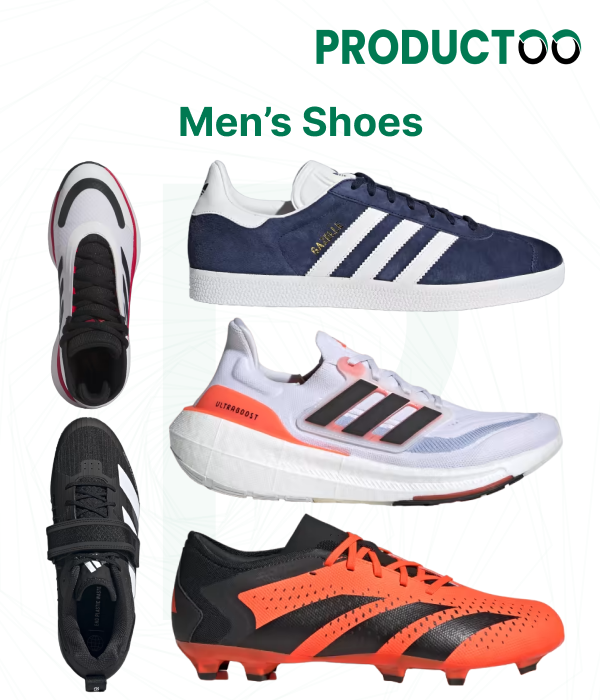 MEN'S SHOES
Trainers
Running
Football
Slides & Sandals
Hiking & Outdoor
Golf
Gym & Training
Walking
Basketball
If you need a multi-purpose sneaker for women, consider a design featuring adidas Bounce midsole technology. Built using EVA foam, it cushions the feet for a responsive, smooth feel. Furthermore, For perfect grip on wet roads or out on the trails, adidas women's shoes with Continental rubber outsoles will keep you moving.
In addition, Style yourself in the best quality ladies Adidas footwear that is stylish, comfortable, & available in different styles.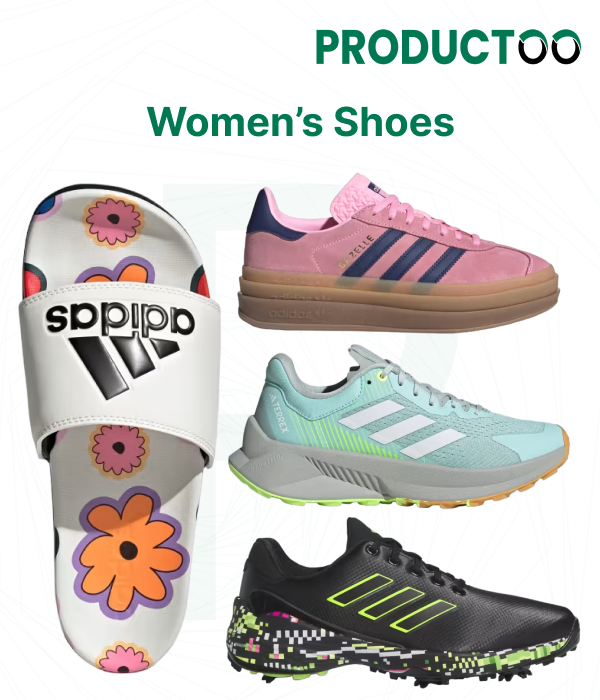 WOMEN'S SHOES
Trainers
Running
Slide & Sandal
Hiking & Outdoors
Golf
Gym & Training
Walking & Football
Buy the most comfortable and stylish kids shoes, loafers, sandals and more! Adidas have wide range of kids shoes. Moreover, Kids' sizes range from 0 up to 6.5 and our trainers for boys and girls come in a range of colors, including black, white, blue, green and yellow. Choose from a variety of materials, including a special selection of sustainable shoes for boys and girls. You'll even find footwear with key athletic details like running spikes, football studs and vulcanized soles.
Shop at PRODUCTOO SHOPPING for a wide range of stylish and comfortable footwear options for your little ones.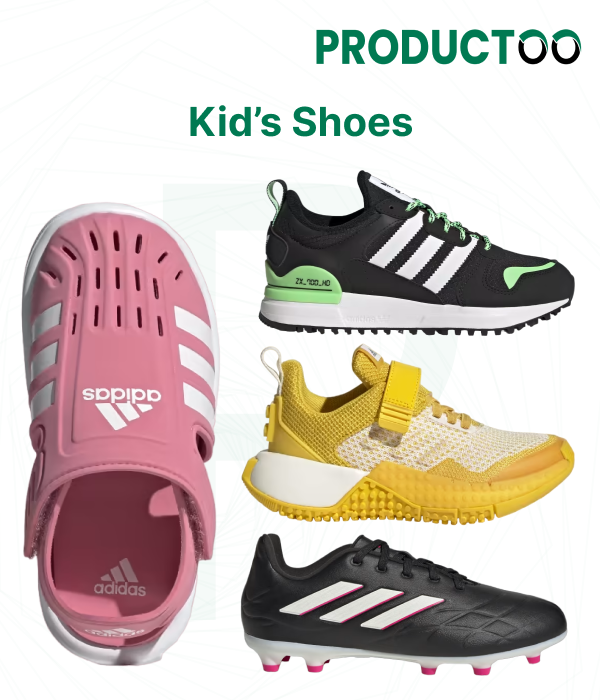 KID'S SHOES
Sneakers
Slides & Sandals
Football
Gym & Training
Outdoor
For further details visit website https://www.adidas.co.uk/