Alpaca Coffee-The Spirit Of Coffee
5 ways Coffee Can Boost Happiness, Health & Productivity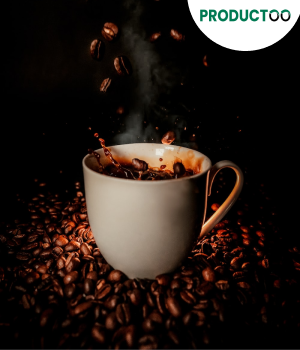 Alpaca Coffee is a significant source of antioxidants and it has also been proven that coffee-drinkers live longer than non-coffee drinkers, even if there are sipping on decaf coffee.
Extensive research has shown that caffeine consumption in the morning is linked with an increase in alertness, concentration, and performance.
It is ideal for boosting productivity. Furthermore, Coffee can also boost your mood and reduce the amount of pain you feel during or after a workout, therefore allowing you to exercise more frequently and for longer periods of time.
Coffee consumption may also protect against Type 2 diabetes and decrease the risk of depression. But the less you consume, the better it works.
Coffee can make your employees happier, literally. Its dopamine-releasing properties make us feel happier because it is able to tap into virtually every reward system. Investing into great coffee will equal a happier work culture and environment.
Alpaca Coffee Products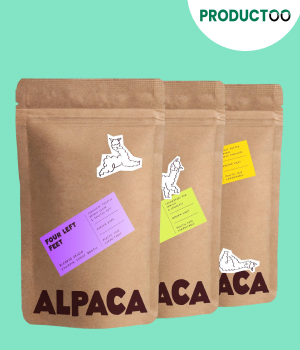 PRODUCTOO SHOPPING offers its customers with best quality Alpaca Coffee. Moreover, Alpaca Coffee work directly with coffee farmers meaning it cut out the middlemen in the supply chain, ensuring what we are paying exceeds Fairtrade. All while being 100% traceable and choosing the best coffee for you.
Four Left Feet From £9.95
Brazil Fazenda Cetec From £11.95
Decaf Colombia Mustafa From £11.95
Colombia Mustafa From £10.95
Alpaca Coffee Non-compromising Features
Coffee Equipment & Gifts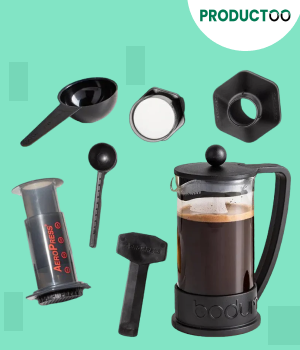 The AeroPress is a groovy method of brewing because it's pretty versatile. It's travel-friendly, easy to clean and durable. The box contains all you need. Just add fresh coffee and hot water.
One of our favourite coffee brew methods. Easy and quick to use, especially when you're starting out your coffee journey or need caffeine in a pinch. The BODUM Brazil french press has a lightweight borosilicate glass carafe and a reusable stainless steel filter and plunge
Alpaca Coffee offers CORPORATE EVENTS & GIFTING.
HOTELS, RESTAURANTS & CAFÉS
OFFICES & PUBLIC SERVE SPACES
BOOK A FREE CONSULTATION WITH US
PRODUCTOO SHOPPING Refine your palate and elevate your coffee experience with this premier blend, our all-time best seller. he highest quality coffees from farms around the world, freshly roasted by hand to bring out Alpaca Coffee.