The Best Nebula UK Portable Smart Projectors
In this modern era of technology electrical equipment seized its market with diversity of portable devices and gear. Typically when we talk about Portable smart projector we can envisage board room, museum exhibit, or man cave because these smart portable projectors are precisely designed for those sorts of spaces. Moreover, portable projectors make the experience more likely even when they are use in so many whereabouts and for an assortment of application. PRODUCTOO SHOPPING enables you to locate your products.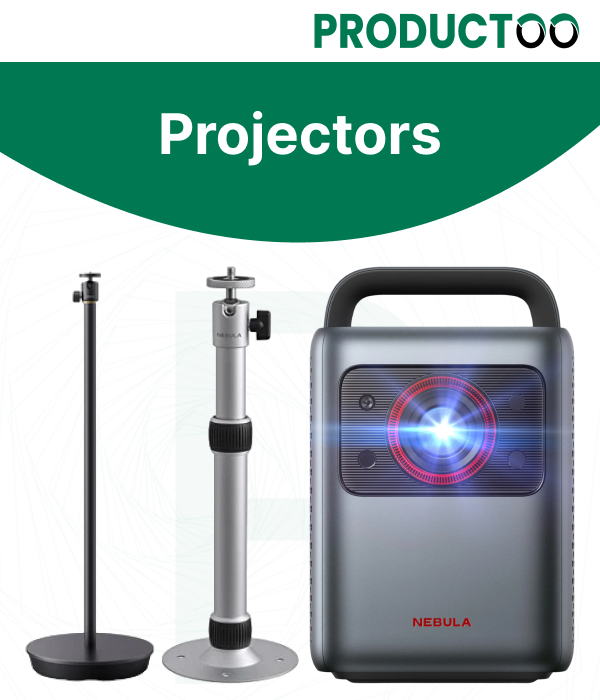 Nebula UK committed to creating smart portable projectors that enrich your life with unique viewing experience. To make your memories unforgettable Nebula Smart projectors will takes your entertainment with imagination and moving your cinema anywhere.
When we talk about the milestones of Nebula UK here are some of the greatest achievement in the market:
2017: Nebula enters the smart projector market with the launch of mars.
2018: Award winning capsule debuts at the no.1 spot in Amazon's portable projector
2020: Around-the-Home screen series brings Nebula into the high-end smart projector era.
Features of Nebula UK smart portable projectors
The biggest advantage of Nebula UK smart projectors is the sheer size. Even a small projector like the Nebula Mars II Pro can put a 150-inch picture on your living room wall. The most popular size today a 110 inch projector delivers a 186% bigger picture.
The portability is another major benefit. You can set your Smart projector within minutes and take it to one place to another.
Nebula Smart Projectors have all the smart and streaming features offered on smart flat-panel.
Sound is the key factor to enjoying a big screen. The Cosmos Max uses a DSP and decodes advanced surround sound created in the Dolby soundtrack. The Nebula Solar can reproduce Dolby Digital Plus soundtrack with the feel of real sounds. Nebula Cosmos Max, the sound is manipulated by its DSP, giving videos and movies a 360- degree sonic presence.
Nebula Astro can toss in a jacket pocket to larger models the size of a hardcover like the Nebula solar.
Smart portable projectors have the double duty Bluetooth Speakers.
The built-in batteries in most models last for about 3 hours.
Nebula Home projectors can also be moved whenever necessary. They don't have to be permanently installed on a celling or special mount. It takes just minutes to move a smart projector and start your video.
Nebula Cosmos and Nebula Solar can display a 1080p HD picture up to 120 inches, a great way to show off any regular TV shows or programs you want to watch at home.
A smart portable projector can handle traditional video sources, like a cable TV box or a game console, no problem.
Projectors Holiday Deal list
Cosmos Laser 4k
Cosmos Max
Cosmos Laser 1080p
Cosmos
Capsule Max
Capsule II
Solar
Student Discount at Nebula
You can now enjoy 15% discount at Nebula. Furthermore, for instant access to the discount simply register verify your student status with Student Beans. For further details visit our website http://uk.seenebula.com